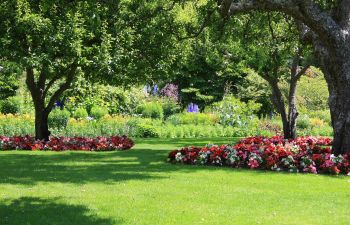 As the temperatures warm up, you may be feeling re-energized and inspired to make your lawn look the best on the block this year. If you get a jumpstart on early spring lawn care, you'll have an excellent chance of accomplishing this. Spring is a time of renewal for your lawn as it greens up after a dormant winter. Spring is rich in moisture and mild in climate, which means you have every opportunity to treat it well. Follow these spring lawn care tips to prepare a thriving, beautiful landscape in the coming months.
Clean Up: Now is the time to rake dead leaves, collect sticks and clear out debris so that your lawn not only looks better, but it can also receive more moisture, nutrients and sunlight.
Mow: When the temperatures are right, give your lawn a thorough mowing. You'll want to set your mowing height slightly lower than normal. This will give your lawn a boost to green up earlier since it will be able to absorb a deeper layer of sunshine.
Apply Pre-emergent: This herbicide prevents seed germination and the growth of crabgrass in your lawn. For best results, apply it when air temperatures reach 65–70°F for four consecutive days.
Fertilize: Last, you'll need to feed your lawn with proper nutrients to "awaken" it after the winter months. Talk to a landscaping professional from Pannone's Lawn Pros & Landscaping to determine which type of fertilizer is best for your specific grass.
If you want to give your lawn the best opportunity to thrive, take the time to follow these early spring lawn maintenance steps. If you'd prefer to leave the job to a professional, Pannone's Lawn Pros & Landscaping offers a wide variety of lawn services, ranging from a one-time yard cleanup to year-round lawn maintenance plans.