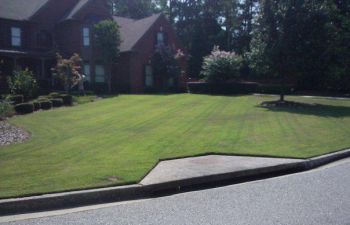 While you may quick to focus on the greenery and flowers of your landscape, it is important to pay attention to the soil as well. Without quality soil, your landscape simply cannot thrive. A quality soil should do many things, including infiltrate water, store water and nutrients for the plant to use, have some organic matter and air spaces, limit erosion and be plentiful in soil microbes. To accomplish all of these tasks, your soil must have air. Compacted soil, unfortunately, does not have proper air space. If you consider the healthy, freshly tilled soil on a farm, compacted soil is just the opposite.
Areas of compacted soil in your landscape need to be identified in order to foster healthy and beautiful plants. For many homeowners, compacted soil is a result of the following:
Poor drainage
Human activities (kids play area, walking path, etc)
Dog traffic
Lawn mowers or other heavy equipment
Clay soils
Most areas of compacted soil don't happen overnight. They develop over years of heavy traffic or specific habits. Therefore, it can be difficult to realize they are forming. Hiring a professional landscaper can help you not only identify areas of soil compaction but also remedy these problem spots. Pannone's Lawn Pros & Landscaping provides full service lawn care, including drainage solutions and lawn aeration to restore health to your soil.