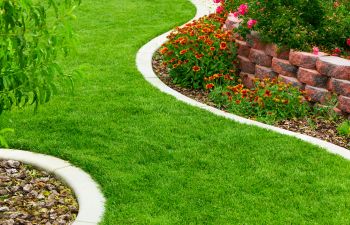 Owning a landscape in Georgia has a lot of perks, including a diverse menu of blooming shrubs that can thrive in our southern climate. Blooming shrubs not only offer bold beauty and aesthetic appeal to your yard, but they can also work well in many different locations, from full-sun garden beds to shady areas under large trees. Whether you have a residential or commercial property, you'll love the upgrade you can give your landscape with the following options in blooming shrubs:
Hydrangea

This is one of the most favored Atlanta shrubs. Depending on the pH of your soil, hydrangeas can produce large blooms of soft purple, pink or blue. In some varieties, all three of colors exist in a single flower head! Not only are hydrangeas an eye-catching shrub, but they are thick enough to be used as a barrier or means to gain privacy on your property.

Banana Shrub

Like the smell of ripe bananas? You'll enjoy Banana Shrubs! This shrub contains cup-shaped cream, rose, or maroon flowers that give off a refreshing, sweet fragrance.

Camellia

Camellias are known for their delicate pink blossoms and tall stature. Some grow upwards of 12 feet! of a camellia! This evergreen shrub thrives in semi-shade and is an excellent deer deterrent. Plant camellias far away from your house due to their potential growth.

Azalea

Azaleas is another popular Georgia shrub that offers valued versatility. Not only do they come in a variety of colors, but these blooming shrugs can low growing or large depending on how much sun they receive and whether or not they are pruned. Azaleas can be the perfect focal point or accent in your landscape design!
Contact an Expert
At Pannone's Lawn Pros & Landscaping, we are happy to help you choose the best blooming shrub for your commercial or residential landscape this spring. Call today to schedule your appointment!