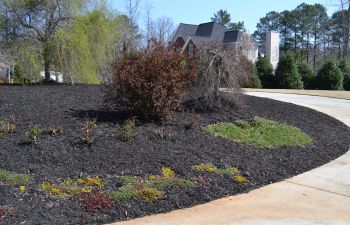 Mulch is an excellent solution to preserve both the aesthetics and health of your landscape. Mulch installation in flowerbeds and trees can help the soil retain moisture, control weeds and insulate plant roots. Your mulch can also be the best way to control erosion in yard.
Now that you can appreciate it's importance, which type of mulch should you spread in your own yard? There are a wide variety of mulch types, including pine straw, wood chips and bark. While it is mostly up to your personal tastes, each type of mulch offers unique advantages and disadvantages.
Pine straw has been a preferred mulch choice in the south for many decades. It is always readily available for Georgia homeowners, and it offers some strong benefits. The needles overlap to form a mat-like ground covering that is also very porous. This allows nourishing moisture to reach the plants that other wood mulch can't offer. Pine straw also tends to stay in place better than bark or mini-bark mulch, despite hard rains or other conditions. It gives a blended natural tone to your landscape that allows your flower bed colors to stand out. Perhaps the biggest disadvantage of pine straw, however, is that it can fade quickly and break down sooner than other mulch options.
If you want a more versatile mulching option, wood chips may be better for you. There are a wide variety of colors available to accent your landscaping. Wood mulch includes pine, hardwood, cypress, and cedar options with size variations as well.
Pannone's Lawn Pros & Landscaping offers mulch installation and delivery in Cumming. We are happy to consult with you and help you determine which type of mulch suits your personal preferences and landscaping needs best.