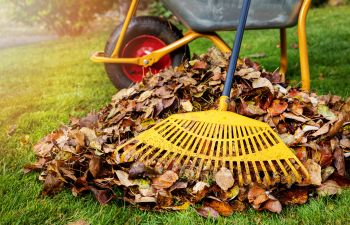 You've watched the leaves transform from solid green to vibrant red, orange and yellow as they fall to the ground and blanket your grass and plants. Fall can be one of the most beautiful seasons of the year. Just like any other season, however, fall must come to an end as winter presses in. To ensure your landscape has the best chance of thriving when it wakes up from its winter dormancy, you'll need to tackle some fall cleanup tasks first.
Whether you do it yourself or hire a professional landscaping team to perform the job, a fall yard cleanup offers valuable benefits to your yard. In fact, the following tasks can help prevent lawn disease, intruding pests and drainage problems throughout your winter landscape.
Remove Any Debris (rake dead foliage, leaves and other organic wastes)
Take Out Dead Shrubs and Trees (remove and replace them now for maximum growth)
Don't Stop Mowing Just Yet (wait until temps are consistently below 50 degrees during the day)
Aerate the Lawn (fall growing season is an ideal time for core aeration)
Add Fertilizer (cooler air and morning dew create a perfect environment for fertilization)
Mulch Around Plants and Trees (eliminates weed growth, prevents erosion and insulates plants)
Rake Over Bald Spots (apply a lawn repair mixture to patchy or bare areas in your lawn)
If you'd rather be watching football or sipping a pumpkin latte than cleaning up your fall lawn, we understand. That's why Pannone's Lawn Pros & Landscaping is equipped and prepared to handle your fall lawn care tasks for you. Our experts can give your yard a thorough clean up as well as identify areas that may need a little more TLC before the cold winter months set in. Our goal is to keep your landscape looking its best all year long. We can even recommend some new fall plantings that would reap big benefits for your yard next spring.
Call our Cumming landscaping team today to get a quote for fall yard cleanup and other lawn care services at your home or business.