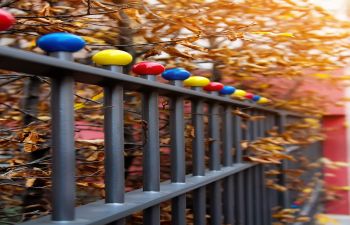 It's finally here in Georgia. Fall was stubborn this year, but the cool crisp air and changing leaves are making an October appearance. Since winter temperatures are just around the corner, it is important to not only enjoy each day of this coveted fall season but also know what tasks we need to perform in our landscape. In fact, proper landscape maintenance this fall can help your outdoor space look its best all year long. Before you carve your pumpkins this fall, consider the following recommendations for your lawn:
Test Your Soil

Your soil can't tell you what it needs. Therefore, testing your soil is the only way to get insight into the nutrient imbalance that may be lying beneath your landscape surface. A simple testing of your soil composition and pH testing can tell you if you've been wasting money in fertilizer or if you need to amend what you are putting on your lawn.

Feed with Mulched Leaves

Your landscape will love a good fall feeding. Consider going organic this year and use mulched leaves. As your leaves begin to fall, go ahead and let them be instead of raking them. Next, install a mulching blade to your mower to use on the fallen leaves every 3-5 days. You can enjoy a free fertilizer that naturally builds your soil while avoiding cumbersome raking.

Tend to Trees and Shrubs

Did you know that fall and early winter are the best times to plant trees and shrubs in the Southeast? The cooler temperatures allow them to get established in low stress conditions. For certain tree and shrub varieties, fall can also be a great time for light pruning before they go dormant. Ask a landscaping expert which trees may need maintenance before winter sets in.
Hire a Professional
If fall landscape maintenance seems overwhelming or a chore, it's okay! Pannone's Lawn Pros & Landscaping offers skilled experts who would love to do the job for you. We offer one-time services as well as year-long maintenance plans to accommodate your needs and budget. We know that not every homeowner has the time or know-how to take care of their landscape each season. If you'd rather spend your fall weekends watching football or hiking the Georgia trails, contact Pannnoe's Lawn Pros & Landscaping today!