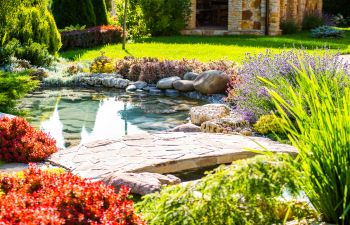 Have you ever heard of Xeriscaping? Xeriscaping refers to the conservation of water through creative landscaping. It is a very eco-friendly design that has gained popularity due to our country's constant effort to fight drought in our yards. While we want to conserve our precious water source, we also want to have a thriving, healthy landscape to live in. Xeriscaping can be considered an effective method to solve this dilemma. Pannone's Lawn Pros & Landscaping can help all landscaping projects, residential or commercial, benefit from this alternative.
What Does Xeriscaping Involve?
It is important to understand that a Xeriscape is not restricted to one single look. This is a landscaping style that can be applied to any yard, in any geographical region. A professional landscaper who is designing a Xeriscape will look for ways to conserve water in your landscape by grouping certain plants together and strategically designing your plants to take advantage of natural precipitation. Xeriscapes also place heavy emphasis on organic soil that is well aerated and using native plants that thrive in this natural soil. In addition, these types of landscapes tend to use mulch liberally, in an effort to preserve the soil's moisture and temperature.
What are the Benefits of a Xeriscape?
Saves Water – This is the primary drive behind implementing a Xeriscape. This strategy is said to reduce the use of water for landscaping by 50 to 75%!
Less Maintenance – You will have some minor pruning and weeding, but with water demands so low, a simple irrigation system is all you need to keep a Xeriscape thriving.
No Fertilizers or Pesticides – By using native plants that thrive in your own natural, organic soil, the need to buy chemical supplements is eliminated.
Improves Property Value – A drought-proof landscaping investment can dramatically increase your home's value and appeal to future buyers.
In your effort to preserve our environment yet enjoy a well-maintained and healthy landscape, it is smart to consider a Xeriscape design. Ask Pannone's Lawn Pros & Landscaping about how you can implement this resourceful landscaping alternative in your own yard.