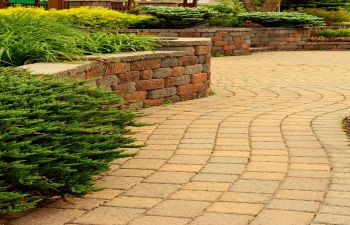 Hardscaping refers installing a decorative or practical structure in your landscape. A hardscape may include a patio, walkway, fence, retaining wall or any other structure that adds function to your outdoor space and/or aesthetic appeal. When designed and installed properly, hardscapes offer definition as well as a sense of organization to the natural features of your existing landscape.
Now that you understand the goal of hardscaping, it is important to be strategic in when you choose to implement or install your structure. If you are anxious to get your new patio or other coveted hardscape, you'll be happy to know that now can be an ideal time to get started. The winter months are great for designing and installing a hardscape on your Georgia landscape for several reasons:
Offseason Perks

First, this is an "offseason" or downtime for most landscaping companies, which means they have more time to devote to your hardscape project. This often equates to a quicker turnaround time for your project and a better chance of a discounted rate on materials and labor.

Less Damage and Disruption

During these cold months, your grasses, plants and flowers are in their dormant phase. This means that your hardscape project is less likely to damage your landscape. You'll also be less bothered and disrupted by the outside construction as you spend more time inside your home.

Enjoy it By Spring

By completing your hardscape project in the winter, you'll be able to take full advantage of your investment when the temperatures begin to warm up in spring. This is especially ideal for those outdoor structures that allow you to entertain in your backyard.
Ready to learn more about completing your patio, walkway, retaining wall, bench or other hardscape feature this winter? Call Pannone's Lawn Pros & Landscaping for affordable prices and quick turnarounds on a variety of stylish hardscape options.