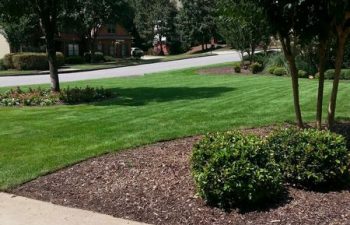 Mulch is a welcome addition to all types of landscapes. Depending on your personal style and budget, mulch can take the form of wood chips, pebbles or bark. You'll find a wide variety of sizes, shapes and colors to choose from. While the aesthetic improvement of freshly laid mulch is certainly a leading benefit, this type of groundcover also offers several other advantages towards the health of your landscape.
Whether you place it around your flower beds or along a stone walkway, mulch offers the following returns on your landscaping investment:
Insulates the soil
Protects soil from extreme weather (heat, cold and rain)
Retains water to help roots stay moist
Keeps weeds away
Prevents soil compaction
Reduces lawn mower damage
Defines walkways and outdoor hardscapes
Showcases flowers, plants, trees and hardscapes
Provides a manicured, tidy appearance to the overall landscape
Hiring a Professional to Spread Your Mulch
Do you dread spreading mulch in your yard? You are not alone. Mulch installation can be a daunting task for someone who lacks the time, energy or know-how. That's why many homeowners and business owners hire a professional to do the job. At Pannone's Lawn Pros and Landscaping, we can complete this important landscaping service with ease. Not only will we install your mulch with techniques that help it stay in place, but we can also help you choose the right type of mulch for your yard as well as provide an accurate estimate on how much mulch to order. Give your yard a facelift and schedule mulch installation with our Cumming landscape experts today.