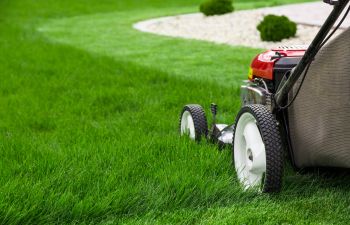 There's no hard and fast rule that says you have to hire a professional lawn care company to maintain your landscape. For some, caring for their lawn is a fun challenge or therapeutic outlet, and you can certainly buy lawn care products like fertilizer, weed control, and insecticides to treat your own lawn.  However, the majority of homeowners lack the time and knowledge to maintain a healthy, vibrant lawn. If you are not up to the task or find yourself failing at the job, we invite you to discover the benefits to hiring a professional to take over your lawn care.
Lawns are more complex than you may think. Lawn care involves far more than just keeping your grass mowed and watered. In fact, your lawn is a very complex ecosystem, composed of hundreds of thousands of individual plants and intricate soil needs. When your lawn exposes a problem or concern, there is usually not a "quick-fix". A professional understands how to diagnose the specific needs of your lawn and apply the correct products for long-term health.
When it comes to lawn care products, it is difficult for the average homeowner to choose the right products as well as get the timing of the applications correct through the entire growing season. Furthermore, the products that are available to a professional lawn care company are often much higher quality than the "watered down" versions that you can buy over the counter. If you select a bad product and apply it in the wrong way, the overall ecosystem of your landscape can be greatly disrupted, causing more problems than you began with. Hiring a professional can help you avoid these frustrations and wasted expense.
When opting for a professional instead of relying on your own limited lawn care knowledge, you'll have the peace of mind that all components of your landscape are being taken care of. A professional lawn care specialist considers the following key elements of your lawn:
Visual Appeal
Lawn Health (both now and in the future)
Environmental Safety (for your family and pets)
At Pannone's Landscaping and Lawn Pros, our customers never regret their investment in our lawn care maintenance services. We understand that every homeowner has unique needs and budget concerns. That's why we are committed to customizing a lawn care plan for every client. Whether you want a one-time yard clean-up or year-round maintenance, we are happy to share our knowledge, skill and experience to make your lawn a space you are proud of.