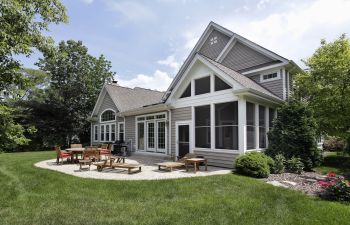 If your gutters and pipes are not properly installed, you are likely to experience drainage problems in your yard. Poor drainage can actually do serious damage to your home. Over time, water that does not drain away from your foundation can lead to mold and moisture in your basement or even wood rot. In regards to your yard, drainage problems can wreak havoc on your landscape design and plants. If you notice the following signs of poor drainage in your yard on a regular basis after a rain, it may be time to call a landscaper for drainage solutions:
Puddles of water around your yard
Displacement of rock and mulch
Soil erosion caused by downpours from your gutters
Damaged plants such as delicate perennials
Fungus on your plants from over saturation
Your drainage concerns may be problematic enough to require French Drain installations. However, it can be a win-win situation for homeowners who only have minor drainage issues to solve it with natural landscaping. Adequate ground cover choices or a dry creek bed can be an excellent way to preserve the beauty of your landscape design while adding aesthetic value as well. A landscaper can redesign your landscape to ensure delicate plants are safe from potential drainage.
If you do suspect a drainage problem, it is important that you take care of it sooner rather than later to prevent further damage, whether it is destruction to your home or your landscape. Pannone's Lawn Pros & Landscaping offers a variety of ways to control erosion in your yard. A small investment to have a well draining yard can save you a lot of expenses in future repairs and uphold the deserved value of your home.