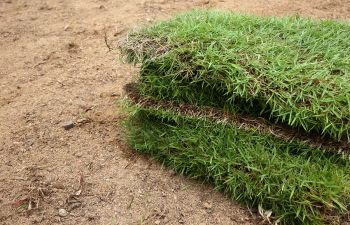 You've decided to invest in new turf. Once you've chosen the best grass type for your yard, it'll be time for the sod installation. Whether you do it yourself or hire a professional, once your sod is laid, you'll need to do all you can to encourage it to take root. The days and weeks immediately following your sod installation are crucial to a healthy and growing lawn in the future – not to mention, optimal sod care in the beginning can protect a notable landscaping investment.
Many factors contribute to how well your sod grows, including heat, sunlight, water and heavy foot traffic. As previously mentioned, the first step is to choose the right sod for your specific area. Once you've installed the sod, consider these tips for healthy growth:
Fertilize to add strength
Within the first two weeks, it is a good idea to apply fertilizer to the new sod, either by hand or with a seed spreader. You'll want to continue this maintenance step about once a month to foster sod strength.
Keep a close eye out for weeds and diseases
Diseases and weeds can become visible as soon as 2-3 days after sod placement. If you notice signs of fungus, discoloration or weed growth, it is critical that you address it quickly so that it doesn't prevent your sod from taking root. You may have to stop watering the sod and apply granular fungicide if you see disease.
Be strict about your watering schedule
Watering is crucial for new sod placement. Your sod will need this nourishment more regularly than older grasses in order to grow deep roots and establish a healthy appearance. If you slack on your watering routine, the sod may grow shallow roots and be too weak to fight off pesky weeds. Watering will be maximized in the first week and gradually taper through the following few weeks.
Don't cut too short or too soon
It is typically okay to cut your new grass two weeks after installation, especially if it is over four inches tall. Don't make the mistake of cutting your new sod too short or too soon! You'll need to keep your grass height at two inches or more to ensure the new sod doesn't become stressed.
For more tips on how to care for your new sod and encourage healthy growth, please contact Pannone's Lawn Pros & Landscaping – we offer new sod installation as well as maintenance plans for homes and businesses in the greater Cumming area.