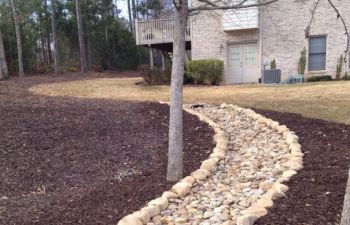 Do you have pools of water in your yard after a hard rain? If so, it needs to be addressed. Fortunately drainage and erosion problems can be solved with a variety of solutions, including rain gardens, dry wells, French drains, retention walls and grading. However, one of the most subtle and natural-looking ways to tackle poor drainage on your property is with the simple installation of a dry creek bed. Here's a closer look at the what, where, why and how of dry creek beds.
What

A dry creek bed a slightly sunken pathway that is filled with beautiful rocks. When it rains, however, the dry creek bed acts like a small creek as water drains through it towards a more optimal place on your property.

Where

Dry creek beds are ideal for yards with a slight slope that are prone to erosion. They are typically installed on the low points of your property to adapt to the natural drainage pattern of rainwater. You can place a dry creek bed in the middle of a garden bed or an area of your grass.

Why

Many homeowners choose a dry creek bed as a less invasive, attractive and more natural means to prevent erosion and protect their landscape when it rains. Dry creek beds can solve drainage issues while adding curb appeal to your home.

How

A lawn care expert from Pannone's Lawn Pros & Landscaping can help you take the guesswork out of your dry creek bed installation. We will first determine the natural path of water flow to create a shallow trench. The path will be covered with a water-permeable fabric or liner before your chosen set of rocks are placed inside. Depending on the size of your dry creek bed and your personal preference of style, we can use a variety of sizes, shapes and colors of natural rocks.
Still have questions about using a dry creek bed in your landscape? Call Pannone's Lawn Pros & Landscaping today?