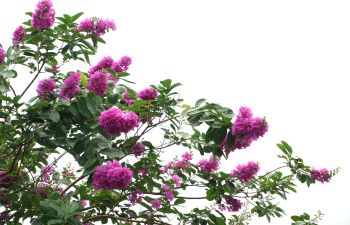 An ideal southern landscape is sure to have at least one Crape Myrtle. Crape Myrtles are a popular and highly favored small tree in Georgia and throughout the southeast. This traditional plant has a lot to offer in terms of aesthetics. Crape Myrtles produce beautiful flowers for most of the summer. They also have a nice fall color and a unique bark that exfoliates. Structurally, people appreciate Crape Myrtles for their upright growth and ability to be used in a variety of settings or applications. If you own a Crape Myrtle, however, you are faced with maintaining it, which then begs the question, "do I prune it or leave it alone?"
To Prune or Not to Prune?
There are two basic ways to manage your Crapes, and it really comes down to personal preference and the location of your trees. In other words, there is not a right or wrong way. You can either prune your Crape Myrtles to remove the previous year's growth and force it to produce new shoots in the spring, or you can leave it alone, or only prune the shoots of the trunk from the root region.
Benefits of Pruning
If you have Crape Myrtles on a small residential yard, you will probably want to prune it each year to keep it from getting too large. An unpruned Crape Myrtle could easily crowd your driveway or grow too close to your house. Crapes can get 30′ tall and 20′ wide if left alone! Size is the number one reason to prune this type of tree.
Benefits of Not Pruning
If you have a large property, you may want your Crape Myrtle to grow to its most beautiful, vase-shaped potential and fill up as much space as possible. As an added benefit, you'll avoid the "knuckling" effect that happens on your Crape Myrtle when it gets regularly pruned. These are round knuckle-like areas on the limbs from getting cut in the same place each year.
Need help planting, pruning or maintaining your Crape Myrtles this year? Call Pannone's Lawn Pros & Landscaping. We have the knowledge and experience to predict how your plants and trees will grow so that you can take the necessary pruning steps at the right time.