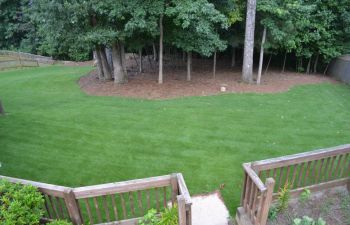 Most of us love having trees in our landscape. They offer valued shade as well as visual appeal. While you don't have to worry about watering a large tree in your yard, your trees may need some maintenance pruning from time to time. There are several reasons why a tree limb may need to be removed, including the following:
Dead or diseased limb
Limb is crossing or competing with another tree limb
Limb is growing inward
To open the canopy and allow more light
To provide vertical or horizontal clearance
Whether you want to remove a limb because of sickness or because its blocking your driveway, there is a right and wrong way to prune. Cutting a tree limb incorrectly could result in number of consequences as the tree tries to recover. To ensure you don't compromise the entire tree, follow these steps for proper tree limb removal:
Pay attention to the first cut. Start on the underside of the limb, about a foot from the tree trunk. Make your initial cut only a third of the way into the tree limb.
Make the second cut further out from the first cut. Go ahead and cut all the way through the branch this time. You'll find that the branch will break off, but it won't tear down the tree trunk in the process because you've made that first cut closer in. This approach keeps the tree from having a large wound that is more susceptible to disease.
Take your last cut at the collar of the branch, or at the area where the limb meets the trunk. There is typically a flared spot here, As the tree recovers, this area will look like a doughnut as the raised area heals around the hole.
The above steps will help protect the health of your tree. If you want the best results, consider pruning during the fall or winter. There is more chance of disease and pests entering a tree wound during the warmer months. If you notice excessive sap after you've cut, try to monitor the tree and let it heal instead of rushing to purchase a wound dressing or tree paint. This is typically not necessary and may actually stunt the recovery process.
For more tips on pruning your trees or to let a professional do the job, call Pannone's Lawn Pros & Landscaping. We handle all types of lawn services, including year-round maintenance and one-time services.