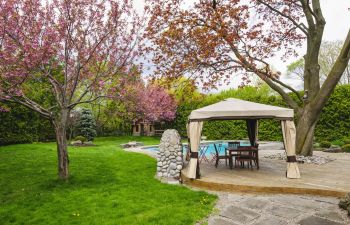 While you may not use or even want an outdoor patio in the winter, now can be the best time to install it. Installing a patio in the winter offers several perks if you want to get the most out of your hardscape investment with minimal sacrifice to your landscape and wallet. Here are some leading reasons why winter can be an ideal time for patio installation:
#1 More Cost-Effective

As the year ends, many landscaping supply companies are desperate to sell their remaining inventory. This can mean lower cost for materials when building your patio or other hardscape.

#2 Faster Installation

When it comes to building and construction, winter often slows down business. For your patio installation, this may allow you to schedule the project in the time frame that you desire and even get the job done much quicker than you would during the busy summer months.

#3 Less Damage to Landscape

Installing a new outdoor patio when your grass and plants are dormant can pose a smaller threat to your overall landscape. If you wait until spring, your flowers and grasses are trying to bud new growth and the frequent rain can make your turf extra soggy and vulnerable to damage.

#4 More Convenient

By choosing to install your patio during the winter months, you can be assured that you'll be ready to actually use and enjoy your investment when the temperatures rise and spring arrives. Waiting until spring or summer to install your patio could even pose a safety threat to your family as they try to navigate your backyard around a construction project. Convenience is most protected when patio installation occurs during the winter.
Want to learn more about your patio options? At Pannone's Landscaping & Lawn Pros, we install beautiful custom patios and other hardscapes so that you can maximize your outdoor living space. Install your patio now so that you can host the neighborhood barbeque this spring!