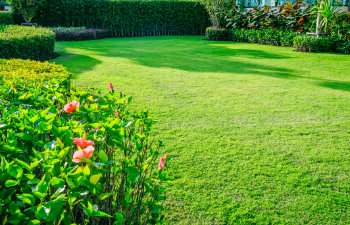 When it comes to the most perfect lawn, we often think of golf courses. These grasses have a vibrant green appearance that is also smooth and even. Did you know that you can achieve a "golf course" lawn in your own backyard? Top dressing sand may be your answer.
At Pannone's Lawn Pros & Landscaping, we proudly offer top dressing sand as a quick and affordable way to improve your grass this year. In fact, top dressing offers several advantages to your lawn, including those that improve its health, its appearance and its usability.
The Benefits of Applying Top Dressing
Top dressing is the practice of applying a layer of organic material or sand over the surface of a lawn. Here are some ways that top dressing can benefit your Cumming lawn:
Improves Soil Structure
Top dressing can improve soil structure by adding organic matter, which helps to loosen compacted soil and promote root growth. This improves the ability of the soil to hold water, nutrients, and oxygen, which are essential for healthy grass growth.
Provide Nutrients
Organic top dressing materials, such as compost or well-aged manure, can provide essential nutrients to the grass, including nitrogen, phosphorus, and potassium. These nutrients are necessary for healthy grass growth and can reduce the need for synthetic fertilizers.
Reduce Thatch Buildup
Thatch is a layer of dead grass and other organic matter that accumulates on the surface of the soil. Top dressing with compost can help break down thatch, which improves water and nutrient penetration into the soil.
Improve Soil pH
Top dressing with lime can help raise soil pH, which is beneficial for grass growth in acidic soils.
Improve drought tolerance: A well-aerated soil with good water-holding capacity can improve the drought tolerance of your lawn.
Improve Overall Appearance & Usability
Top dressing can improve the appearance of your lawn by smoothing out uneven areas and filling in low spots. This can also allow your children and pets to play on your yard more safely.
Not all top dressing is created equal. At Pannone's Lawn Pros & Landscaping, we can recommend the type of top dressing material that is ideal for your lawn as well as the best application rate. Call our Cumming lawn care team today to learn more.