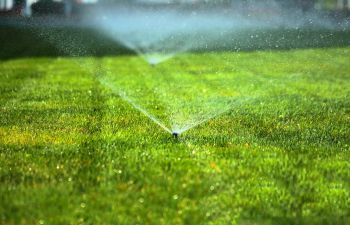 Long gone are the days when you had to spend your summer standing in the yard with a garden hose to water your landscape. Now, most homeowners rely on automatic irrigation systems, which have brought valued benefits towards convenience and efficiency when it comes to maintaining your yard. However, while automatic irrigation can be a win-win for yourself and your lawn, they are not foolproof. Being able to detect irrigation problems early is critical to making sure your landscape doesn't suffer. It will also help you get the most out of your irrigation investment.
At Pannone's Lawn Pros & Landscaping, we witness countless lawns that have been ruined or badly damaged due to neglected irrigation problems. While our lawn maintenance team can certainly help diagnose issues within your watering system, it is helpful to know what the most common irrigation problems are:
#1 Clogged Sprinkler Heads

It is not surprising that sprinkler heads get clogged with dirt and debris over time. After all, they are always "weathering" the environmental conditions outside. However, when your sprinkler end is blocked, it makes it very hard for water to get through to your lawn.

#2 Obstructed Sprinklers

Do you have several sprinklers located throughout their landscape? It can be hard to remember exactly where they were all placed in the ground. Consequently, it is common for plants, trash cans, toys or other objects to get left in the way of one or more of your sprinkler streams. In some cases, you can have a plant that started out clear of your sprinkler heads, but as it grew, it has obstructed your irrigation system. This can cause water to pool in specific areas of your lawn and leave other areas too dry and malnourished.

#3 Loose Nozzles

Have you seen large amounts of water pour out right in front of your sprinkler head? This is an indication that the nozzle has become loose or knocked off completely. This commonly happens accidentally from dogs, kids or the lawnmower. Without the nozzle, the water is not projected and dispersed. This can cause areas of saturation around your sprinkler head, which often leads to fungus, weeds and mosquitoes.

#4 Design Changes

Just like your house or your wardrobe, it is common to want to change up your landscape from time to time. However, if you plan to move plants or add additional flower beds, you'll need to make the appropriate changes within your irrigation system too. If you don't adjust the height or location of your sprinklers when necessary, you'll end up wasting water and depriving your lawn.
Is your landscape showing signs of irrigation problems? Call Pannone's Lawn Pros & Landscaping today. We offer year a full menu of lawn services catered to your needs and budget.