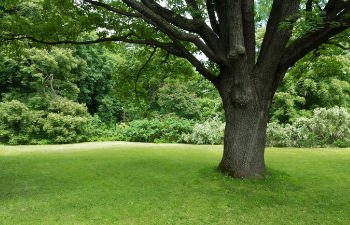 As we sit in the middle of a Georgia summer, you may find yourself keenly aware of the lack of shade on your property. This is especially common if you are in a newly built neighborhood where trees are not yet fully mature. Choosing and planting the right shade trees in your yard can make a big difference in keeping your family comfortable on hot sunny days in the future.
What shade tree will work best for your needs? Where is the best place to plant your shade tree? Here are some things to consider:
#1 Know How the Sun Moves
If you want to maximize shade from your trees, you'll need to first learn how the sun moves across your property. During summer, the sun often passes by much higher overhead and casts a different shadow than it would during the spring or fall. The structures of your home, hardscape or the neighbor's home may also impact the shadow or shade you're trying to achieve.
#2 Know What You Want to Shade
Next, it's important to determine exactly what area you want to shade. Is it a portion of the driveway so that your kids can play afternoon basketball without getting too hot? Do you have a backyard deck that you need to shade for entertaining purposes? It is also smart to consider shading your air conditioning unit outside to help it run more efficiently.
#3 Know How Much Room You Have
Do you research or ask a landscaping expert to figure out how tall and wide your shade tree will grow when it is fully mature. Next, you'll need to determine how wide the canopy can grow without intruding on your house, driveway, sidewalk, power lines, shed or other structure on your property. In general, a small yard may only be able to allow a 40-foot mature tree planted 20 feet from the house.
#4 Know Which Trees Appeal to You
Last but not least, ask yourself which trees you like to look at? Do you prefer a tree that blooms flowers or one that offers red and gold leaves in the fall? Some trees have a "cleaner canopy" than others, but your style of shade tree is ultimately your personal preference.
Shade Tree Selection and Planting in Cumming
At Pannone's Lawn Pros & Landscaping, we can help you choose the best shade tree for your specific property. Our experts will consider the necessary factors it takes to make a smart shade tree investment. After we plant the tree, you can count on our team to keep it healthy and maintained as it grows.