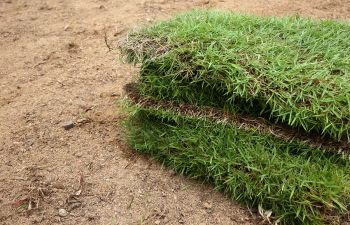 If you've recently invested in new sod, you are likely excited and anxious for an upgraded summer turf. However, as you've probably noticed, your sod must now take root and establish itself over the ground before you can let your kids and dog run across it with confidence. New sod requires special care instructions, including guidelines you should follow at certain points of time.
Initial 2 Weeks
For the first two weeks following your sod installation, hydration is essential. In fact for the first several months in general, your new turf should be properly watered. Immediately after the install, you'll actually want to water it enough that it is spongy to step. For optimal growth, keep it wet to a depth of about 3-5 inches. During the first 7 to 14 days, this may require watering the new sod up to 4 or 5 times a day depending on the weather. Don't let your sod dry out and when it is thoroughly saturated, try to avoid walking on it.
Weeks 3 & 4
At the end of the first two week period, you may allow your lawn to dry enough to mow. The next couple of weeks are a transition or weaning period, involving less watering sessions per day and/or between days. However, never let your sod completely dry out during this timeframe. By the end of the first month, your sod should be okay to last a couple days between watering. Consider irrigating your new turf in the evening or early morning; these are times that evaporation is reduced.
The First Growing Season
For the rest of the season, watering is still a key factor in establishing well-rooted and healthy sod growth. For the first six months, it is best to water your lawn more than normal. It is recommended that you focus on deep watering with less frequency. In other words, allow the water to saturate deep into the root system, but don't water as often as you did during the first month. If you see signs of stress or dryness in your yard, make sure you respond by turning on the sprinklers.
Mowing Rules
If you notice that your new sod grass has grown over 3.5 inches, go ahead and mow it. This may even occur in the first two weeks. Just make sure the sod dries out enough to turn on your mower. In addition, don't cut the turf shorter than 2 inches for the first few mowing sessions. If a section of your sod shifts during mowing, don't be too alarmed. Place it firmly back in place and it should grow in fine.
New sod care is essential if you want to protect and maximize your investment. For more tips on how to help your new turf flourish, call Pannone's Lawn Pros & Landscaping. We can point you in the right direction or take care of your new sod maintenance ourselves!