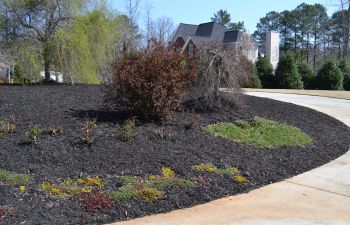 It is that time of year again. Early Spring is the perfect time to add mulch around your landscape. Not only does this set a well-manicured foundation for colorful tones throughout your yard, but it provides essential benefits for the growth of your trees, shrubs and flowers.
Spreading mulch in your landscape offers the following:
Adds nutrients back into the soil
Promotes bacterial action within the soil
Preserves the soil moisture level
Controls an even soil temperature
Helps prevent soil erosion
Suppresses weeds
Prevent compacted soil
Applying mulch to your yard does require some planning and insight. The professionals of Pannone's Lawn Pros & Landscaping can properly assess the number of bags your landscape needs as well as determine the best type of mulch for your plants. It is always a good idea to consider how damp your proposed mulch areas usually stay. Too much mulch in the wrong areas can contribute to root rot and other problems. Furthermore, if you choose the wrong type of mulch (and there are many varieties out there), it could actually kill your plants
Always ask a professional if you are unsure about applying mulch to your yard. It is an ideal ground cover if you use it correctly, as it can provide significant aesthetic and functional benefits to your landscape.