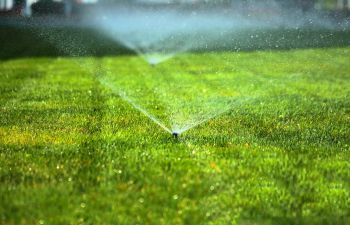 With the arrival of spring, you are likely ready to see a vibrant and healthy turf emerge. However, in order to achieve those bold, green and thick blades of grass across your lawn, you may need to tend to the underlying framework for your grass first. This includes examining your thatch.
What is thatch? Thatch is a tightly interwoven layer of living and dead tissue that exists between the green vegetation and soil surface. It is composed of stem, leaf sheath and root products. It typically develops due to the fact that organic matter forms faster that it can decompose. While a thin layer of thatch is good for you lawn, as it provides some durability, an excessive thatch can be a problem. A thatch layer that exceeds ½ inch can harbor disease organisms and harmful insects that will compromise your lawn health. In addition, there are often a lot of roots found in thick thatch layers. Since thatch can dry out quickly, these root systems are vulnerable to drought. In contrast, wet thatch can hold excessive water during rainy periods, which inhibits proper oxygen to the turf roots.
To eliminate the risk of a thick thatch sabotaging your spring lawn, you'll need to remove it or "break it up." Lawn aeration is an excellent service for early spring lawn care, as it not only loosens this tight thatch layer, but it also promotes better moisture and oxygen penetration to the soil and allows fertilizers to reach the root system. At Pannone Lawn Pros & Landscaping, we have experts who can determine your lawn aeration needs and properly measure your thatch thickness. We offer a full range of spring lawn care services to ensure your lawn has a strong support system for healthy seasonal growth.