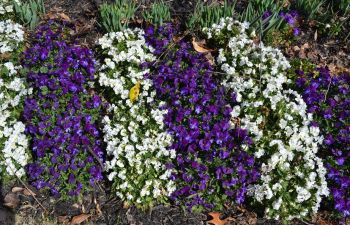 Do you typically gain energy, peace or relaxation while gardening or being outdoors? You are not alone. Therapeutic Horticulture is a well-known concept that refers to the purposeful use of plants and plant-related activities to promote health and wellness for people. To fully take advantage of such a health-promoting benefit in your own backyard, it is important that you create an accessible garden with seasonal flowers in your home. An accessible garden means that there are no barriers to your ability to enjoy, relax and be energized by the plant life outside your door. A professional landscaper from Pannone's Lawn Pros & Landscaping can help you those that benefit from therapeutic horticulture by implementing some simple changes in your landscape. The use of raised beds, pots, hanging baskets and even table planters are excellent ways to create an accessible garden for therapeutic benefit.
Don't be afraid to take your love of plants indoors or to your workplace. Urban Planters refers to contact with plants and nature as "a calming restorative tonic for body and soul." They report the following researched evidence on why and how plants are good for us at home as well as in our schools, hospitals and workplace environment:
Improve air quality
Reduce stress
Make people calmer and happier
Reduce workplace negativity
Reduce symptoms of discomfort and minor ailments
Reduce absenteeism
Speed up healing
Improve concentration, productivity and creativity
Save energy
Absorb noise
The benefits of using plants in your home or work environment far outweigh the investment. Getting help from a professional landscaper can help you reap these amazing benefits even if you don't consider yourself a 'green-thumb' individual. What can you do today to starting feeling better about breathing in more plant-filled air?