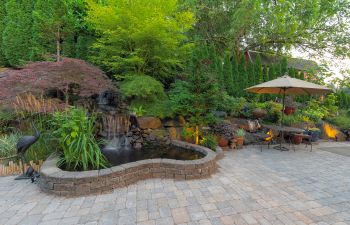 When trying to design the ideal landscape for your home, there are many elements to consider. However, as you select your turf, flower bed design and tree arrangement, don't forget about hardscape ideas that can create a valued outdoor living space. One of the most unused yet highly beneficial hardscapes is a flagstone patio. This unique and versatile natural stone can not only add beauty to your overall landscape and existing hardscapes, but it is also durable enough to stand the test of time.
The Benefits of Flagstone
Flagstone is very versatile. It can be used to create patios, walkways, fireplaces, driveways and flower bed borders.
Flagstone is durable and can withstand harsh weather elements without cracking or warping. This natural stone is also resistant to termites and other uninvited pests. As a patio, the layered composition of flagstone holds up extremely well under high-traffic areas, and its textured curves provide a non-slip surface for better safety.
Flagstone is readily available. The large accessibility to flagstone means that you can typically have your choice in colors as well as benefit from a lower cost compared to more rare types of stone.
Flagstone allows for unique customization and artistic appeal. Flagstone comes in a variety of textures, colors and styles. Therefore, it is easy for customers to tailor the look of their flagstone patio to accent their landscape or express their personal style.
Ready to install a flagstone patio in your Cumming landscape? Trust our talented crew from Pannone's Lawn Pro & Landscaping. We have added functional value and aesthetic appeal to countless backyards with the addition of high quality flagstone!