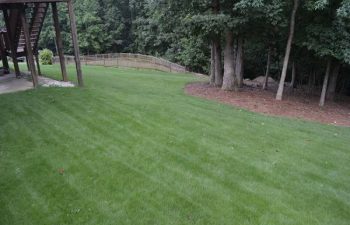 Have you ever admired and coveted the perfect grass on a golf course? Is it even possible to get that same green, even and manicured turf appearance in your own yard? Don't assume that your backyard can't have "golf-course-worthy" grass. In fact, it may come down to one simple addition – top dressing!
Almost every golf course fairway and green that you drool over is backed by the secret of top dressing. In most cases, this involves a layer of sand over the top surface of the lawn to unleash a number of desirable benefits for your lawn appearance and its health.
The Benefits of Top Dressing
There are many benefits to top dressing your lawn with sand, including the following:
Improves overall quality of soil over time
Promotes new growth for a denser lawn
Fosters better moisture retention
Increased root development and drainage (clay soils)
Levels out bumpy areas
Deters weeds and moss (due to increased density)
Prevents thatch buildup
Is Sand Top Dressing Right for You?
When it comes to top dressing your lawn, fall is an ideal time to consider it. The professionals at Pannone's Landscaping and Lawn Pros welcome your questions about top dressing. We can also do the entire job for you to ensure it is done properly. Top dressing can require a specific mixture and texture depending on the type of your soil. For optimal results, lawn aeration should be done prior to your top dressing service.
Call our Cumming lawn experts today to learn more about delivery and installation of sand top dressing. A golf-course lawn could be yours!