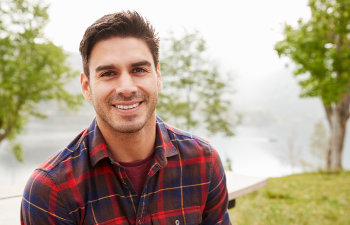 At Pannone's Lawn Pros & Landscaping, we believe in the transformative power of well-designed outdoor spaces. Did you know that the way you landscape your yard can have an incredible impact on your mental health, stress reduction, and overall well-being? Here are some evidence-based insights that demonstrate the healing influence of our outdoor sanctuaries.
The Connection Between Nature and Well-Being
Nature has a unique way of soothing our minds and rejuvenating our spirits. Research has consistently shown that spending time in green spaces, surrounded by trees, plants, and fresh air, can have a profound effect on our mental health. Whether it's a serene backyard garden or a well-designed landscape, these outdoor havens offer numerous psychological benefits that can enhance our quality of life.
Stress Reduction and Anxiety Relief
In today's fast-paced world, stress and anxiety have become common companions. Thankfully, well-designed outdoor spaces provide a natural escape from the hustle and bustle of daily life. The presence of greenery and natural elements has been linked to reduced levels of stress hormones, such as cortisol, and an increase in feelings of relaxation and calmness. Simply spending time in a thoughtfully landscaped garden or park can significantly alleviate stress and promote a sense of tranquility.
Enhanced Mood and Emotional Well-Being
Ever notice how a stroll through a beautiful garden or a walk in a park can lift your spirits? That's no coincidence. Exposure to nature has been associated with improved mood and emotional well-being. The vibrant colors of flowers, the soothing sound of flowing water, and the gentle rustling of leaves all contribute to a positive sensory experience that elevates our mood and fosters a sense of happiness.
Boosted Creativity and Productivity
Spending time in natural surroundings has also been shown to enhance creativity and boost productivity. For those in need of inspiration or a mental break, stepping outside into a well-landscaped area can stimulate the mind and spark new ideas. Whether you're a busy professional or a creative thinker, having access to a thoughtfully designed outdoor space can significantly enhance your performance and creativity.
Physical Health Benefits
Beyond the psychological advantages, landscaping can also positively impact our physical health. Being in nature encourages physical activity, whether it's gardening, walking, or playing in a backyard oasis. Regular outdoor activity is associated with improved cardiovascular health, reduced risk of chronic diseases, and better overall fitness.
Creating Your Outdoor Sanctuary
Now that we understand the remarkable benefits of well-designed outdoor spaces, the next step is to create our own personal sanctuary. This is where the expertise of landscaping contractors, such as Pannone's Lawn Pros & Landscaping, becomes invaluable. Our skilled professionals can turn your vision into a reality, designing a landscape that not only complements your lifestyle but also enhances your mental and physical well-being.
From carefully selecting plants and flowers to incorporating water features and relaxation areas, our team can create an outdoor space that nurtures your soul and elevates your living experience.
Call Our Cumming Landscaping Experts Today!
The power of landscaping goes beyond aesthetics; it extends to our mental health and overall well-being. Nature has a remarkable ability to heal, and by investing in well-designed outdoor spaces, we gift ourselves with a haven of tranquility, creativity, and happiness. At Pannone's Lawn Pros & Landscaping, we are passionate about creating outdoor sanctuaries that nurture your mind, body, and spirit. If you're ready to transform your outdoor space into a therapeutic oasis, don't hesitate to reach out to our expert team. Let's embark on a journey to create your very own slice of paradise!