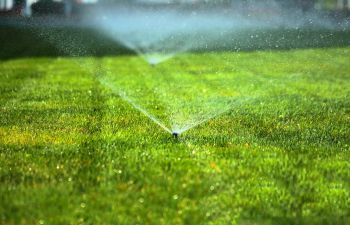 It is common knowledge that your landscape needs water to survive. Your plants, trees, flowers and grasses need an adequate amount of moisture to retain their condition and their livelihood. Unfortunately, natural watering from rainfall doesn't always meet the thirst demands of your landscape. Therefore, it becomes imperative that homeowners intervene with their own watering system. While it is certainly possible to water your yard by dragging a garden hose around your property, there is a much better alternative in the form of an irrigation system.
Benefits of an Irrigation System
A properly installed irrigation system saves time, labor and water. However, it is also more effective when it comes to nourishing all corners of your landscape. Irrigation can stimulate deep roots, encourage new leaves and blossoms and provide systemic care for your plants. Lastly, having an irrigation system and automatic watering method on your property will undoubtedly boost the value of your home.
The Effectiveness and Efficiency of Irrigation
Your irrigation system is more than meets the eye. It is strategically designed to give the plants, shrubs and flowers the correct amount of water that they each need, which can differ from your grass area. In addition, irrigation is precisely placed to reach all borders of your landscape so that a patch of grass or corner tree does not get neglected. Finally, your irrigation system can include various sprinkler heads to accommodate different regions of your landscape. For example, a "bubbler" head can soak a smaller area so that the root system of a tree is more saturated.
Irrigation can also conserve water. They offer a more efficient means of watering your lawn, which means less time and less water used. It then becomes easy to understand how the long-term savings in your water bill can outweigh the upfront cost of an irrigation system installation. For homeowners that value water conservation efforts, there are now many irrigation systems that are equipped with special technology such as rain sensors that promptly shut off the system when it is raining.
Expert Irrigation Installation and Repair
At Pannone's Lawn Pros & Landscaping, we specialize in all facets of landscape maintenance. We also know that services such as irrigation is not a "one-size-fits-all" approach. Therefore, if you are considering a new irrigation system for your property, please schedule a consult with us so that we can determine how to best meet your needs. Our goal is to use our knowledge and expertise to keep your landscape beautiful and healthy.