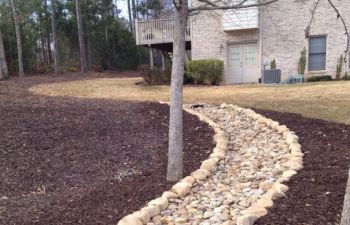 When faced with drainage or erosion problems in your yard, you will likely be directed to install a drainage pipe to rectify the issue. However, before you sacrifice your beautiful, natural landscape for a fat plastic pipe placed underground, consider an alternative solution by getting a dry creek bed instead. Dry Creek beds are expertly designed and installed by Pannone's Lawn Pros & Landscaping to provide customers with an effective way to combat drainage issues without hindering the aesthetic value of your landscape. In fact, most dry creek beds will actually enhance your yard design while providing a practical solution as well. You may be a candidate for a dry creek bed in your yard if you have a downward slope on your property in which excess water flows or low light areas where grass has difficulty growing. With this type of poor drainage and eventual erosion, the water flow needs to be properly contained and redirected without damaging the landscape.
A landscaping professional can design the dry creek bed to channel water away from your yard and into the street. If a water runoff into your street is not allowed or preferred, your bed can be built to direct water into another area of your land that does not create erosion problems, or it can filter harmlessly down into the ground if your soil is sandy. If you want a bigger yard addition, you can even build a small pond and let the water funnel there.
When it comes to putting your personal flare and style into your dry creek bed, your options are limitless. You can choose the rocks or pick out your favorite plants to border your bed and soften the edges. Pannone's Lawn Pros are experts in helping you choose a dry creek bed design that gives you the drainage solutions you need with the aesthetic appeal you approve of. There is a style that fits every budget when it comes to dry creek beds. It is a win-win landscaping solution when you fix your drainage problem while adding beauty, value and class to your yard.