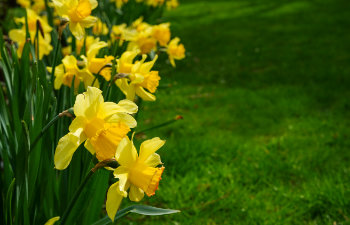 Summer is a time when vibrant colors and beautiful blooms grace our landscapes, adding a touch of charm and elegance to our outdoor spaces. If you have a summer flower bed, you know how rewarding it can be to nurture and witness the growth of your favorite flowers. However, maintaining a thriving flower bed requires time, knowledge, and expertise. At Pannone's Landscaping & Lawn Pros, we can help you explore the benefits of hiring professionals to care for your summer flower bed, ensuring its health and beauty throughout the season.
Expert Knowledge and Experience
Professional landscapers bring a wealth of knowledge and experience to the table. They are well-versed in the intricacies of various flower species, understanding their specific care requirements, including soil conditions, watering needs, fertilization, and pest control. With their expertise, they can identify any potential issues and implement effective solutions, resulting in healthier and more vibrant blooms.
Customized Plant Selection
Choosing the right plants for your summer flower bed can be overwhelming, considering the countless options available. Our Cumming professional landscapers can guide you in selecting the ideal plant species based on your preferences, local climate, sun exposure, and soil conditions. Our knowledge of different plant varieties ensures a diverse and visually appealing flower bed that thrives in your specific environment.
Time and Convenience
Caring for a flower bed demands time and dedication. From regular watering to pruning, deadheading, and weed control, the tasks can quickly accumulate, leaving little time for you to enjoy your outdoor space. By hiring our pros at Pannone's, you can reclaim your leisure time and trust that your flower bed will receive the attention it needs to flourish. Our regular maintenance visits ensure that your flowers are well-tended to while you focus on other aspects of your life.
Enhanced Aesthetics
A professionally cared-for flower bed is a sight to behold. Landscaping experts have an eye for design and can create stunning arrangements, combining colors, heights, and textures to achieve an aesthetically pleasing display. Our attention to detail ensures that your flower bed becomes a focal point in your landscape, providing a visually appealing and inviting atmosphere for your outdoor gatherings and relaxation.
Long-Term Health and Sustainability
Proper care and maintenance are vital for the long-term health and sustainability of your summer flower bed. As professional landscapers, we understand the importance of soil health, drainage, and fertilization techniques that promote healthy root systems and robust growth. We also have the necessary tools and equipment to provide a precise and efficient care routine that encourages sustainable practices, such as water conservation and organic pest control.
Schedule Your Flower Bed Installation and Maintenance Today
Entrusting the care of your summer flower bed to professionals offers numerous benefits, from expert knowledge and experience to customized plant selection, time savings, enhanced aesthetics, and long-term sustainability. Pannone's Landscaping & Lawn Pros understands the unique needs of your flower bed and can provide the tailored care it deserves, ensuring that it remains a vibrant and stunning focal point of your outdoor space throughout the summer season. So, sit back, relax, and let our professionals create a flourishing haven that brings joy and beauty to your Cumming landscape.