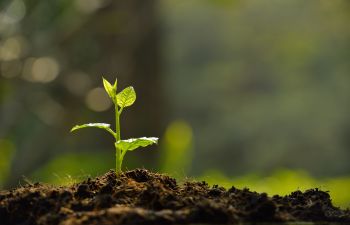 Did you know that doing a good deed for the planet could actually add value to your home? In honor of Earth Day, it is beneficial to discuss the ways in which your yard can contribute to your home's appreciation and value as well as give back to our environment. Did you know that the value of a home that has a well-landscaped yard with mature and healthy trees can be up to 10 times higher than a house with little to no landscape? No one would turn down a chance to increase their home value, but there are also more ways that healthy landscaping can be beneficial.
We all know that trees and plants give off oxygen, which we need to breathe. However, the healthy plants in your house or yard also means you gain cleaner air. Plants and trees can be a cheap way to filter harmful dust and pollutants. In addition, well-placed trees can also help to cool your home during the warm, summer temperatures. Save on cooling costs by strategically planting a few trees to shade your house. Lastly, homeowners and business owners often utilize trees and shrubs to screen unwanted views or busy highways. They can provide the perfect solution to block noise and sights and make your home more private.
Pannone's Lawn Pros & Landscaping can help you add trees and plants that will not only increase value to your home but provide a cleaner, more resourceful home environment. It is truly a win-win situation. A luscious landscape means a more appealing and natural view out of your window while saving on air conditioning costs inside. Plus, you can go to sleep at night knowing you are breathing cleaner and naturally filtered air.