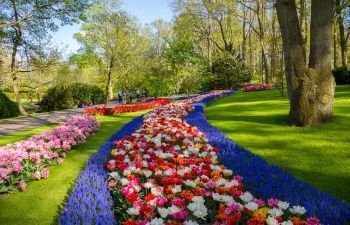 Many homeowners enjoy living on land where deer and other wildlife are free to roam. However, when deer become frequent visitors to your yard, it can pose a real threat to your landscape vegetation. Spring flowers are a known snack for deer, rabbits and other critters. In fact, it can be especially frustrating to spend the money and time on planting bulbs, only to watch them get eaten away within hours or days after you see them bloom.
Do you have to sacrifice your colorful spring blooms to Bambi each year? Not necessarily, but it is important to choose the right spring flowers if you want to keep the wildlife away. The following are known as deer-resistant bulbs:
Snowdrops

These deer-resistant blooms are often the first to emerge in the spring. Snowdrop flowers deliver an attractive pop of green and white, and they aren't a food favorite for visiting deer.

Spring Starflower

This is a less used but undoubtedly cheerful spring flower that is available in many colors, including white, pink and blue.

Daffodils

Daffodils are the top choice for deer-resistant bulbs. This popular spring flower has a specific alkaloid that deer stay away from due to its distasteful and even poisonous elements. Contrary to popular belief, daffodils aren't always yellow. Consider creams, oranges, pinks and other shades to brighten your landscape.

Hyacinth

This spring flower is both deer-resistant and favorably fragrant. Hyacinth flowers make a great bouquet, especially since they won't be chomped down by wildlife mammals.

Allium

While members of the onion family, Allium represent a gorgeous globe-shaped flower that attract butterflies but repel deer due to its offensive taste.
Not sure which deer-resistant flowers to plant in your yard? Each flower type blooms best in different zones, or specific combinations of shade and sunlight. To ensure you get the most out of your spring landscaping investment, choose Pannone's Lawn Pros & Landscaping. We are known for excellence when it comes to seasonal planting in Georgia!