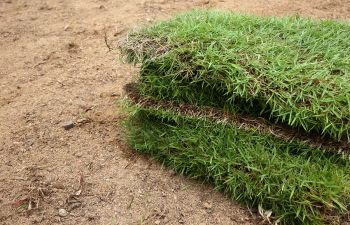 Although Spring seems a far reach from these days of bitter cold temperatures and dry winter air, it will be upon us before you know it. You may not be able to do much in your yard right now, but there is no reason why you can't start planning your springtime lawn. Treat your family to an instant green landscape with sod this year. Professional landscapers, such as Pannone's Lawn Pros & Landscaping, can handle all the details in prepping your lawn for sod. They have experience in laying all types of sod, depending on your specific preferences and your lawn elements. Early spring is actually an optimal time to plant sod since cool temperatures combined with occasional rain help sod quickly root. Many homeowners debate the investment to lay sod versus growing their own grass. Here are some reasons that sod could be your best landscape investment this year:
Instant finished results: When you choose sod, there is no suffering through a muddy and patchy lawn for weeks while you wait for your grass seed to sprout. If you like immediate results and fast bragging rights on your luscious yard, sod is your best choice.
Less expensive: Yes, that is right. Even though sod may seem like a hefty investment up front, over time you will save a lot of time and money on the weed control (sod has no weeds) and extra fertilization that a seeded lawn requires season after season. More importantly, a sod lawn is healthier, made from the best soil and fertilization as well as generous watering to ensure it has a strong root development and lasts for years to come.
The denser the better: Sod produces a much denser lawn covering than seeded grass. The grass plants are sown very close together to eliminate bare spots, which also makes reseeding unnecessary. Zoysia is a popular type of sod that actually makes your lawn feel like dense carpet and is extremely water-resistant. Families find themselves using and enjoying their lawn on a whole new level after sod installation. Would sod get your kids outside to play more? A worthwhile investment indeed.
Erosion control: Sod can be a perfect solution to soil erosion if you are losing valuable topsoil down a hill or slope in your yard. Sod prevents rain runoff and other drainage problems that are typical in bare soil, a double benefit of sod for your landscape.
We all want a beautiful green lawn. It gives a house curb appeal, promotes outdoor play and it can essentially make a house feel like a home. Sod can be your answer to your landscape makeover this spring. For best results, you will want to be ready to plant your sod in early spring. Contact Pannone's Lawn Pros & Landscaping for experts that can help you determine which type of sod is right for you.