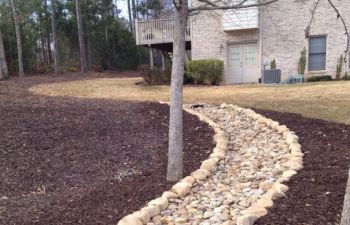 Poor drainage in your yard can wreak havoc on the health of your landscape. In fact, your grass and plants can die just as fast with too much water as they can from drying out. If you notice consistent soggy spots on your turf or wet soil in a flowerbed even when the rest of your landscape has dried out, it may be time to invest in some drainage solutions.
Drainage solutions can be a simple, budget-friendly fix or a more invasive and costly remedy. This largely depends on what is causing your poor drainage problem. Here is your best and worse case scenario:
Is it the soil?

There are times when your dying or waterlogged plants are suffering due to poor drainage in your soil. If it is an isolated problem within the soil, there are easy ways to improve your soil's structure. Solutions may include minimizing soil tillage, adding peat or compost or adding sand, porous ceramic or expanded shale.

Is it grading deficiency?

Your drainage problem may involve a more complicated fix. Poor drainage can result from grading deficiencies or when your yard has a bad slope that allows standing water to accumulate during a heavy rain. Soil grading and surface grading may be your best and most effective solution. You may consider a subsurface drain if you are not willing to undergo surface grading, and this can provide some help. However, surface grading, although disruptive to your landscape at the time, can offer the most long-lasting remedy to your drainage problem. This will level your property site in a way that directs water to a drainage ditch, catch basin or dry well.
At Pannone's Lawn Pros & Landscaping, we can handle your drainage problems. We want to help your plants, flowers and shrubs thrive – even during a rainy season. Schedule your consult today and we can determine which type of drainage solution your landscape needs to stay healthy.