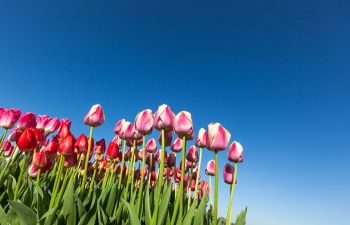 Warmer temperatures are finally within reach, which means your spring landscape is ready to reveal itself. How vibrant do you expect your landscape to be this spring? If you are concerned about the revival of your lawn after months of cold weather, there are things you can do. Here are six action steps you can take now to improve your chances for a healthy and beautiful landscape once spring officially arrives.
Perform a Basic Clean-Up
Doing a little "spring cleaning" throughout your outdoor space is essential Removing the tree limbs and other debris from winter can give your lawn a better chance of breathing and sprouting like it should.
Don't Neglect the Rake
Raking your lawn before spring serves as a double-advantage. Not only does it clean up leaves, acorns and other small debris, but it also loosens the soil and breaks up clumps of grass to foster better growth.
Prune Away
Spring is an ideal pruning time for trees and shrubs. Not only can you improve the aesthetics of your shrubbery, but you can prevent overgrowth and boost the overall health of your trees and shrubs by pruning them correctly.
Edge Your Lawn
Your lawn has likely lost its borders and clean lines over the winter. Edging is a simple way to redefine those borders and create a more manicured landscape appearance.
Replenish Mulch
Mulch isn't just for looks. It can control moisture absorption and weeds so your plants have a better chance at sprouting. In nearly all cases, you'll need to add new mulch to your landscape to get ready for spring.
Feed and Fertilize
Finally, your lawn needs food to be durable and strong. Apply the appropriate fertilizer treatment before or after a rain if possible. You may also want to add a pre-emergent to prevent spring weeds.
Not sure you want to tackle the task of preparing your landscape for spring? You don't have to. The experts of Pannone's Lawn Pros & Landscaping welcome the opportunity to provide lawn care maintenance or a one-time yard cleanup to ensure your landscape emerges at its best. Call now to schedule your lawn service before spring!