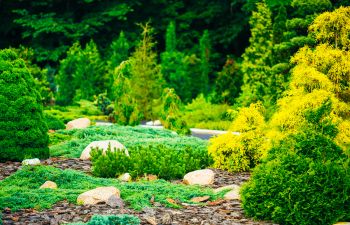 Do you want to give your outdoor space a facelift? You don't necessarily have to re-do your entire landscape. In fact, there are some simple landscaping strategies that can make a big difference in how your front or backyard looks. An attractive yard is one that is better valued and enjoyed!
Make Your Yard Look Bigger
There are ways to make your small yard look larger without actually extending your property line. Landscaping design elements such as using horizontal layers of different heights can give an illusion of depth and space. For example, put low shrubs against a slightly higher fence or add an arbor to your flower bed.
More Soaking Less Sprinkling
If your outdoor plants are looking less than vibrant or struggle to grow, you may need to adjust your watering techniques. In most cases, it is better soak your turf and plants less frequently instead of sprinkling them several times. Water needs to penetrate deep in the soil so that the roots an absorb the water. Just watering the topsoil doesn't always get the job done and your plant is left thirsty. Make sure your watering method leaves your soil wet about 4-6 deep.
Mix it Up
When it comes to the aesthetics of your landscape, don't be shy about mixing various sizes and shapes of flowers and plants. This can provide more depth and interest to your yard while keeping it visually appealing when certain flowers aren't blooming.
Avoid Transplanting When the Sun is Out
Transplanting is an excellent landscaping strategy, but it should never be done on a bright sunny day. It is critical that the soil remain damp in order for the transplant to succeed. Wait for a cloudy day or early dusk to carry out your transplanting agenda.
Roses for the Win
One of the most surefire ways to boost your home's curb appeal is to grow a romantic rose garden. Besides sun and water, these bold and luscious flowers only need a wood or wire-based trellis to begin their eye-catching growth.
Need help for your personal yard? Every landscape is different and our team at Pannone's Lawn Pros & Landscaping is prepared to give you a tailored plan for a beautiful outdoor space. Call today for landscaping design tips, lawn care maintenance and much more!