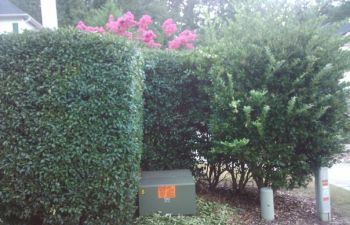 For the majority of homeowners, privacy is important. Whether you are having an intimate gathering in your backyard or want to avoid the lights of street traffic on your front steps, it is understandable to want some isolation or retreat from time to time. Fortunately, you don't always have to build a brick wall or install a fence to create your desired solitude. Trees and shrubs can make an excellent privacy solution – one that serves its purpose, is naturally discreet offers pleasing aesthetics.
There are many reasons to want privacy trees in your front, back or side yard, including the following:
You have a pool or hot tub
Your kids frequently play outside
You have a dog that is easily distracted by neighbors, cars or other dogs
You like to hold parties or barbeques in your backyard
You simply enjoy your alone time
You want privacy but don't like the sight of wood, metal or brick as a barricade
At Pannone's Lawn Pros & Landscaping, we are happy to tell you about your options for privacy trees. In general, cypress and cedar are thick trees that are popular options. As an added bonus, they also grow fast, which is a valued benefit for those that don't want to wait years for optimal privacy. Whether you want to keep your kids more contained or outside lookers out, we have several options to choose from when it comes to large and small natural privacy screens. It can often make a dramatic difference in how homeowners feel about the overall look of their landscape as well as increase the amount of time they actually spend in their yard.