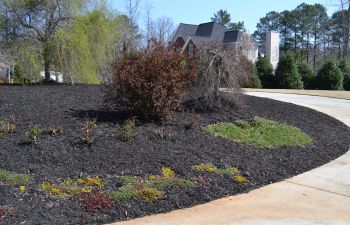 Winters can be a dull and dreary time of year, but that doesn't mean you have to settle for dismal landscape. While we can't stop the trees from shedding their leaves or the perennials from dying back, but there are still ways to add color to you landscape in the winter. Consider using bright seasonal color, bulbs and evergreen perennials throughout your yard this year. Seeing some color in your yard (despite the gloomy weather) can even boost your mood!
Most of Georgia is either in a "Hardy Zone" of 7b or 8a, which allows for some creative choices for seasonal planting. Here are some recommended plants that can give your landscape a splash of color and still survive a typical winter in Georgia.
Pansy
Viola
Cabbage & Kale
Daffodils
Hyacinth
Tulips
There are specific pros and cons to each of these plant varieties, along with unique planting and feeding instructions. To ensure you are choosing the best winter color plant for your yard, call a landscaping expert. At Pannone's Lawn Pros and Professionals, we love helping clients revitalize their landscape through all seasons of the year. We offer seasonal planting, yard cleanup as well as year-round maintenance. Our services are always customized to meet your unique lawn care needs and budget.