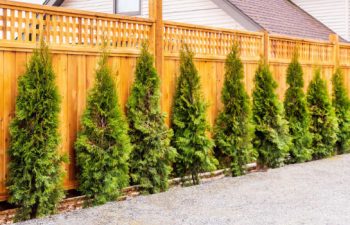 If you want to border your property and gain some privacy at the same time, traditional hardscape fencing is not the only option. In fact, more and more homeowners are realizing the benefits of letting nature create their desired barrier.
Privacy trees can be a subtle, natural and aesthetically pleasing way to gain some solitude in your own yard. When strategically placed, these trees can take on many forms depending on your specific needs, personal style and how you want the shrubs, hedges or trees to compliment your overall landscape design.
There are many reasons why homeowners consider privacy trees as a border around their landscape, including the following:
Conceal an unsightly view
Get some privacy from a nosy neighbor
Have separation but without blocking sky, sunlight and natural breeze
Shield a swimming pool or entertainment area
Muffle street noise
Hide cars or street lights
Block strong winds
Why Choose Privacy Trees over Hardscape Fencing?
Hardscape fencing can be a very effective means of delivering privacy and protection. However, it is not for everyone. Some homeowners have strict guidelines from their HOA in regards to the type of fencing material, height and other specifications. This may not align with what you want to do or create in your backyard. Privacy trees are also ideal for those who want a "softscape" and environmentally-friendly solution. They can also add value to your property!
What Kind of Privacy Do You Need?
It is important that you choose the right privacy trees for your specific needs and style. A landscaping expert can help you accomplish this. You'll need to consider a plant solution that is dense and holds its foliage year-round, especially if you are wanting to screen a permanent fixture such as street lamps, the house next door or a railroad. Spacing and height are also important considerations. In general evergreen conifers and broadleaved evergreens make excellent privacy trees. If you want color, Magnolia, Ornamental Cherry and Crabapple trees are popular choices.
Ready to create your plant some trees and gain some privacy on your property? Call Pannone's Lawn Pros & Landscaping today and book your privacy tree consultation in Cumming.