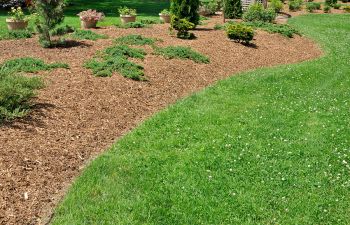 Believe it or not, the cooler temperatures are setting in and the first frost is just around the corner. Rather than waiting until the Spring to access your frost-damaged lawn, there are things you can do now to ensure your yard will be green and healthy when it warms back up.
The first step you can take to prevent future damage is to water your lawn. Most homeowners carry the assumption that watering is less important or necessary in the weeks leading up to cold temperatures. However, a thorough watering shortly before a frost can warm the soil and provide the necessary amount of water your grass needs to self-regulate. Again, watering is a great idea before a frost but never during a frost.
The next step you can take to winterize your lawn is to supply it with ample nutrients. We all know that lawns and gardens need nutrients to maintain healthy growth. During the fall, you can apply a higher than normal amount of pot ash to help the roots grow stronger and able to withstand cold temperatures through a frost.
We may not be in the middle of winter just yet, but just one frost could damage your lawn if you are not careful. Pannone's Lawn Pros & Landscaping provides full lawn care services throughout the year and they can help you determine what your specific lawn needs in order to protected from harsh, cold temperatures.