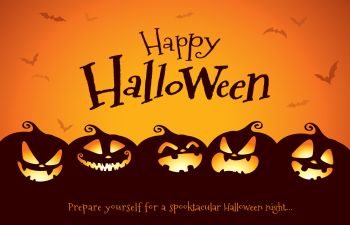 With Halloween right around the corner, you have some work to do to prepare. This doesn't mean just finding a costume and carving your pumpkins, it should also involve preparing your lawn for one of the busiest times of the year. In fact, on this single night, your lawn will likely endure a large volume of traffic from ghosts, goblins and other anxious trick-or-treaters. It is important to keep your dressed-up visitors safe on your property, but also protect your lawn the best you can too.
Don't make the mistake of neglecting the following tips to prepare your landscape for Halloween.
Tips for Trick-or-Treat Traffic
With so many extras on your landscape on Halloween night, it is imperative that you provide a safe environment. The last thing you want is to be held responsible for an accident or injury that occurred on your property during the evening. The following tips are ways that you can maximize trick-or-treater safety while minimizing damage to your landscape.
Provide a clear, safe path for trick-or-treaters. Use proper lighting and remove leaves and debris from walkways. If you have steps, make sure these are visible and well-marked if necessary.
Be strategic in helping visitors avoid trampling your grass, flowers or shrubs. Use lighting or decorations to provide an obvious path for trick-or-treaters so that they won't cut through your lawn. You may even choose to sit at the end of your driveway to hand out candy to completely avoid the risk of lawn trampling.
Decorate Wisely
Part of enjoying Halloween is decorating for the occasion. However, as much as you want to pull out your spiders, ghosts and witches to show the neighborhood, you may also want to keep your lawn in good shape too. Here's some tips that allow you to show your Halloween spirit without sabotaging your landscape condition:
Hang some decorations from a tree
Utilize your door for elaborate decorations
Go natural with your décor – use pumpkins!
Place decorations on your driveway instead of lawn turf
Avoid inflatables and other lawn ornaments that can suffocate (and ruin) your grass
At Pannone's Lawn Pros & Landscaping, we love helping clients maintain the appearance and health of their landscape all year long. If you need help with sprucing up your yard before Halloween visitors approach, give us a call.