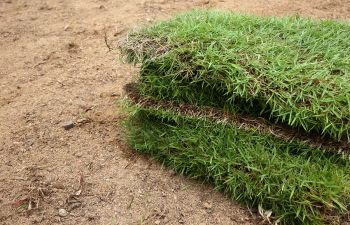 Newly laid sod can provide a dramatic facelift to your property, especially if your grass was sparse, diseased or otherwise unsightly beforehand. There are various types of sod available for your Georgia home based on the personal look you are going for as well as the particular dynamics of your landscape (sun, shade, sloped, etc). Regardless of which type of sod you choose, it needs to be properly installed if you want to protect your investment. Sod installation can be a cumbersome DIY project, and most homeowners are glad they relied on the expertise of a landscaping professional. At Pannone's Lawn Pro's & Landscaping, we understand the importance of not only installing your sod with excellence but also taking the necessary steps to prepare the area of land before the sod is rolled out. Here's some insight into what the preparation process entails:
Step 1: Test the Soil

The growth, vibrancy and success of any type of plant or vegetation starts with the soil foundation. Now is the perfect time to test your soil and ensure it is able to deliver the level of nutrients that your new sod will need in the coming months.

Step 2: Measure

Measuring your area of turf can give you an accurate estimate of how much sod to order. This can be performed by an old-fashioned tape measure or using advanced digital and online tools that are now available. A professional will know how to properly measure lawns that have complex shapes. It is suggested that you order five to ten percent more than your estimate to ensure you don't come up short on the job.

Step 3: Get Rid of Old Grass

Your new sod will need a clean slate. Therefore, if you have old grass lingering around, the next step is to kill it and remove it. There are special products that can be applied to kill the grass, which may take a few applications and several days to accomplish.

Step 4: Preparing and Grading

This is the most tedious and perhaps the most important step. Proper site preparation allows new grass roots to penetrate more deeply and evenly, which is essential for turf density, weed prevention and nutrition during droughts. Site preparation involves the following:

Clear away any stumps and any building materials (wood, cement, etc)
Grade the land to eliminate steep slopes and drainage issues
Tilling to a depth of two inches
Topsoil addition (special sand or clay material)
Finish grading
Roll area with lawn roller to settle surface
Time to Roll Out Your New Turf
Now you are ready to lay and roll out your new sod! The above steps require special instructions and each property site can present unique challenges along the way. If you'd like an expert to handle your new sod installation job, our team at Pannone's Law Pro & Landscaping is happy to help. Call today – we offer various types of sod including Zoysia (Zeon Zoysia and other types), Bermuda (TifGrand Bermuda and other types) and Fescue.