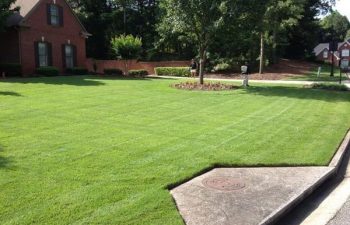 There is a growing movement to "go green" and establish more environmentally-friendly practices in the home. From choosing organic cleaning products to purchasing less processed foods, an increasing number of families are looking for ways to not only protect the environment but also avoid harmful toxins and chemicals. Your lawn and garden can be one of the places you "go green" while still avoiding weeds, pests and disease across your lawn. Here are some easy steps to keep your turf healthy and avoid unwanted pesticides and herbicides.
Steps to a Pesticide-Free Landscape
Organic lawn care is important to many of our clients, especially those that have young kids and pets that they want to protect. At Pannone's Lawn Pros & Landscaping, we suggest the following tips for homeowners who want to avoid chemical treatments on their grass and plants:
Stay Proactive About Lawn Health. Services such as over-seeding and lawn aeration are eco-friendly ways to keep your lawn looking healthy from the start. Ask a landscaping expert about what months of the year are best to perform these proactive lawn care tasks.
Be a Mindful Mower. How you mow your lawn can make a big difference in the growth of your weeds. If you are wanting to avoid pesticides and weed killer sprays, you'll need to keep sharp mower blades and maintain your grass height around 3 inches high.
Consider Compost. Compost and compost tea are organic solutions to protect your plants from insects. Some gardeners maintain a compost pile and use it to enrich their soil. Others steep their compost in a bucket of water and spray the "tea" over their plants.
Use a Natural Weed Killer
If you want to eliminate the use of herbicides to kill pesky weeds in your lawn, try using a natural household item instead – like vinegar! Vinegar is known for killing weeds without adding toxins to your environment. (Keep your vinegar spray away from plants that you want to keep.)
Organic Lawn Care in Cumming
At Pannone's Lawn Pros & Landscaping, we have skilled contractors who understand the importance of maintaining a healthy lawn using organic lawn care techniques. Please contact us to learn more about how we can customize a lawn maintenance plan for you.