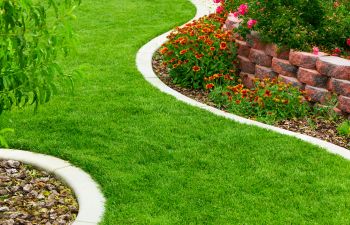 Are you a new homeowner? Congratulations! While the purchase is certainly exciting, the process of getting moved and settled in can be quite overwhelming. Not only does it require a lot of work to get the inside of your home set up, but the outside needs your attention too. In fact, learning how to maintain a brand-new landscape can be difficult. So here are some lawn care tips to help you get started:
Get to Know Your Landscape
If you haven't done so already, you should take a slow and attentive walk around your entire landscape. Learn the types of grass, flowers and trees that are already planted. (You may need to ask the previous homeowner or builder if you are unsure). Understanding what is in your yard is the first step towards knowing how to properly maintain it.
Tackle the Weeds
If you bought a home with a yard full of weeds, it's best to get them under control as soon as possible. Without the proper nutrients, weeds will take over your lawn. Make it a priority to learn about which products and fertilizers are best for nourishing your grass and killing unwanted weeds.
Decide What You Want to Keep or Replace
It is not uncommon to have a different taste and preferences in landscaping than a previous homeowner. Don't feel bad about digging up those azaleas and replacing them with rose bushes if that suits your style best. Try to get an overall plan for what you'd like to keep growing, what plants or flowers need extra attention and which landscaping features you may like to add.
Consider Planning with a Professional
To cut down on the stress of establishing your new home and trying to tackle a new landscape at the same time, it may be best to consider the help of a professional. At Pannone's Lawn Pros & Landscaping, we proudly offer our lawn care expertise to help new homeowners. Constructing a short-term and long-term plan for your new landscape is important, and we have the knowledge, tools and skills to accomplish that.
To schedule your free estimate with our Cumming landscaping team, please call us today! We can help you make a good first impression in your neighborhood!