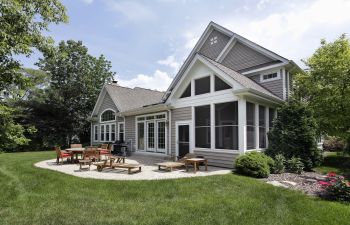 An attractive landscape is more than just a random assortment of your favorite plants, trees and flowers. In fact, the design of your landscape can be just as important as its health and composition. Landscape design demands artistic balance, strategic planning and a keen understanding of how plants thrive in certain locations and environments. When it comes to designing the landscape of your backyard, however, you'll also need to consider functionality.
The Challenge of Backyard Landscape Design
While most homeowners go for a manicured style for their front yard, your landscape in the backyard often needs more. While the backyard should certainly remain aesthetically appealing, you may also need to use this outdoor space more than the front. Creating usable and functional space while also promoting an attractive landscape often requires the expertise of a Landscape Design Specialist.
Integrating Hardscapes
Things like patios, decks, fire pits and outdoor kitchen are an excellent way to bring a little of the indoors out. It allows you to entertain more guests with less clean-up and fuss. However, there should be some careful considerations in what you plant around your outdoor entertainment areas. For example, you may love the look of fruit trees for your backyard, but these trees litter quite often and can be an attraction for stinging pests. These are elements that can create disruptions to your outdoor plans and events.
Another popular goal of homeowners is creating shade for their backyard guests. This is a great idea but must include trees that don't shed often or grow too large for your space over time. Again, a landscape design expert can help you choose the right plants to surround your pool, outdoor kitchen or patio.
Bring Your Ideas and Goals to Life
At Pannone's Lawn Pros & Landscaping, we proudly offer remarkable services in landscape design. After carefully listening to your goals for your backyard, our designers will use their experience and knowledge to design a strategic and successful landscape that incorporates both aesthetics and functionality! Call our Cumming team today to schedule your Landscape Design appointment.