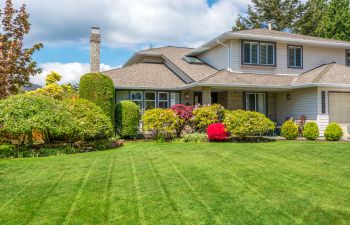 Well-manicured landscapes and beautifully planted gardens are threatened by unwanted pests nearly every day. Garden pests typically come in three categories: mammals (deer, rabbits), insects and gastropods (slugs and snails). Regardless of the specific group of pests that wrecks your landscape most, it is important to know there are natural ways to deal with them. Although your first reaction may be to run to the store and choose from an array of chemical sprays or other harsh solutions to eliminate pests, there are some great non-toxic and natural methods that can get the job done too.
You may think that because you don't have small children or pets, the harsher pest control chemicals are fine to use. However, it is important that you realize that by killing the bad predators in your garden, you are also eliminating some of the good ones too. Poisoning the lower end of the food chain like the slugs and the insects in your yard lock you into a cycle wherein you have to keep applying chemicals to deal with the problem because you've driven away the element of nature that was actually helping you.
So the next time you find a pest wreaking havoc on your beautiful lawn, try these natural remedies first:
Coffee: That's right. Coffee grounds are not only a great addition to enrich your plant soil but the majority of pests detest coffee. These strong coffee grounds repel slugs, cats and even deer.
Copper: Slugs and snails especially are not fond of copper. Use a copper tape around the body of a container plant or buy a commercial roll of copper gardening mesh to keep your plants safe. For an even cheaper method, simply uncoil the copper wire/string that is commonly found in your pot scrubber and tie it around your plants as a fortress against pests.
Organic Insect Spray: This is a great alternative to chemical sprays at your local store. Simply go online and you are sure to find a variety of recipes to try. Most contain strong (yet natural) ingredients such as garlic clove or cayenne pepper that work to drive garden pests away.
These are just a few of the many ways you can keep a pest-free garden without harsh chemicals. You can rest easy at night knowing you are not bringing toxins into your landscape as well as saving yourself some valuable costs. Pannone's Lawn Pros & Landscaping is dedicated to helping customers find ways to eliminate destructive pests through methods that homeowners are comfortable with.