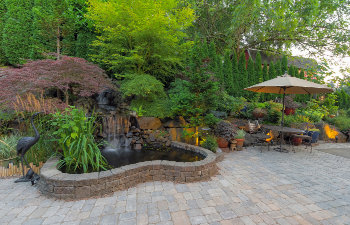 A lush, green landscape not only adds beauty to your property but also provides a sense of privacy and tranquility. In the beautiful state of Georgia, where nature's splendor is abundant, creating a private oasis is a desire shared by many homeowners. If you are looking for an elegant and low-maintenance solution to enhance your privacy, consider incorporating privacy trees into your landscape. In this blog, Pannone's Lawn Pros & Landscaping will introduce you to some of the best low maintenance privacy trees that thrive in Georgia's climate.
Leyland Cypress (Cupressocyparis leylandii)
Leyland Cypress is an evergreen tree that is incredibly popular for creating natural privacy screens. With its dense, feathery foliage, this fast-growing tree can quickly establish a thick barrier between your property and the outside world. In addition to its remarkable privacy benefits, the Leyland Cypress is relatively low maintenance, requiring minimal pruning and being highly adaptable to various soil conditions.
Eastern Redcedar (Juniperus virginiana)
The Eastern Redcedar is a native tree to Georgia known for its aromatic, reddish-brown bark and bluish-green foliage. Its dense growth habit makes it an excellent choice for a privacy screen. This tree is highly resistant to drought and can thrive in different soil types, making it a resilient and low-maintenance option for homeowners seeking privacy without excessive care.
Wax Myrtle (Myrica cerifera)
The Wax Myrtle, also known as Southern Bayberry, is a versatile evergreen shrub that can be trained into a small tree or left to grow naturally as a dense hedge. Its glossy, fragrant leaves and waxy blue berries add visual interest year-round. The Wax Myrtle is well-suited to Georgia's climate, as it can tolerate wet soils and salt spray, making it an ideal choice for coastal areas.
American Holly (Ilex opaca)
The American Holly is a classic choice for a privacy tree that also doubles as a festive decoration during the holiday season. Its iconic red berries and glossy, spiky leaves add a touch of elegance to any landscape. Once established, the American Holly is a relatively low-maintenance tree, requiring occasional pruning to maintain its shape and density.
Green Giant Arborvitae (Thuja standishii x plicata 'Green Giant')
As the name suggests, the Green Giant Arborvitae is a large, stately tree with a pyramidal shape that provides excellent privacy screening. This fast-growing evergreen is known for its vibrant green foliage and ability to withstand Georgia's summer heat. With little pruning required, this low-maintenance tree is a popular choice for those looking for a quick and effective privacy solution.
Nellie R. Stevens Holly (Ilex x 'Nellie R. Stevens')
The Nellie R. Stevens Holly is a hybrid between the Chinese Holly and the English Holly, resulting in a visually appealing evergreen tree. Its dark green, glossy leaves and vibrant red berries make it a year-round focal point. This tree is not only low maintenance but also highly tolerant of urban conditions, making it an ideal choice for suburban landscapes.
Get Privacy Trees Installed In Your Cumming Yard
Privacy trees are an excellent addition to any Georgia landscape, offering both seclusion and natural beauty without requiring excessive upkeep. Whether you opt for the fast-growing Leyland Cypress, the aromatic Eastern Redcedar, or the festive American Holly, your choice of low-maintenance privacy trees will enhance your property for years to come. Remember to consult with landscaping professionals like Pannone's Lawn Pros & Landscaping to determine the best trees for your specific needs and to ensure proper planting and care. With these elegant and low-maintenance privacy trees, your Georgia home will become a private sanctuary amidst the wonders of nature.