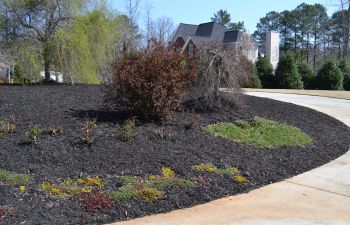 Does your landscape need a facelift? One of the simplest and quickest ways to improve your lawn is by adding a fresh layer of mulch. Not only does mulch boost your curb appeal, but it also provides benefits to your lawn health. Be careful – there are right and wrong ways to mulch!
What Can Mulch Give to Your Landscape?
Visual Appeal: The contrast of rich-colored mulch that is strategically placed throughout your landscape can add real value to its aesthetic appeal. Mulch can highlight your flower beds and provide attractive definition within your landscape design.
New Life to Your Plants and Flowers: Your plants and flowers love fresh mulch. This groundcover helps your beds retain proper amounts of moisture and keeps the soil temperature at an ideal level. Mulch can also help reduce weed growth and lawn pests!
The Basic Rules of Mulching
Keep in mind that mulch comes in a wide range of varieties. The most common mulch used in the metro Atlanta area are pine straw, bark mulch and wood chips. Talk to a professional landscaper if you aren't sure what type is best for your yard.
It can also be hard to determine how much mulch to purchase. It's a hassle to have to go back to the nursery and buy more, but buying too much can be a frustrating waste of money. In general, one yard of mulch is enough to cover 300 square feet an inch deep. If you have a large area that needs to be covered, consider buying in bulk and having it delivered. Hire lawn care experts to spread it if you want it done precisely.
Last but certainly not least, if you are laying your own mulch, don't overdo it. In other words, more is not necessary better. In fact, applying too much mulch can do more harm than good, causing plants to smother and root systems to become too shallow.
If you want more information on how to give your landscape some love with fresh mulch, call Pannone's Lawn Pros & Landscaping. We deliver and install mulch for Cumming area residents!