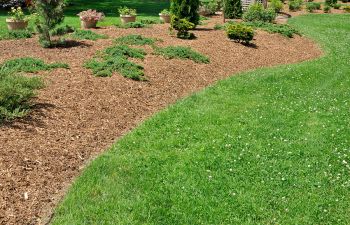 It is nearing that time of year when you'll be choosing a fresh groundcover to accent your flower beds and cover other strategic areas around your landscape. For the average homeowner, this begs the question, "mulch or pine straw?" Mulch (which can come in a variety of types) and pine straw are the two most common categories for ground cover. Determining which material is best for you is based on many factors, including your budget, personal taste and type of plants or flowers you have in your landscape.
To help you make the decision, here are some quick PROS and CONS about mulch and pine straw:
Pine Straw Pros
Less expensive than mulch in the short term
Easier to spread and/or rearrange
Great around acid-loving plants, such as azalea bushes
Naturally blends better with surrounding landscape
Pine Straw Cons:
Needs reapplication (freshening) more frequently
Acidic, which can be too much for your soil
May need more upkeep, blows away more easily
Mulch Pros
More sufficient moisture barrier and insulator for plants
Add additional nutrients to soil
Stays in place for a longer amount of time
Adds color and definition for a more manicured landscape appearance
Mulch Cons
High upfront cost
More difficult to spread
Requires more per square footage than pine straw
Still not sure which type of ground cover material is best for your lawn? Call the professionals of Pannone's Landscaping and Lawn Pros. We bring years of experience in mulch delivery, installation and maintenance.
Your ground cover choice may be more than just a personal preference, it is important to keep the needs of your plants and flowers in mind as well. Let a lawn professional guide you – it could save your wallet from buying too much mulch as well as save your back from the hours of spreading it by yourself!