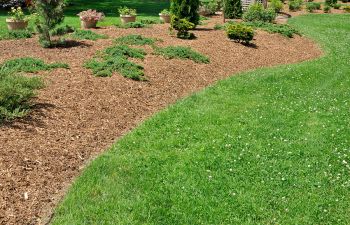 As you are choosing your ground cover around your flowerbeds and shrubs this Fall, you may be deciding between mulch and pine straw. This is a common debate among many homeowners and is largely up to your personal preference. Both mulch and pine straw serve the same purpose but they do offer some difference in advantages. As mulch and pine straw installation specialists, Pannone's Lawn Pros & Landscaping will be happy to help you determine which ground cover is best for your personal style and yard needs.
Although it tends to be more expensive than pine straw and requires maneuvering a heavier load if you are doing the work yourself, mulch does offer some substantial advantages.
Ground Cover – Mulch can act as a blanket in the winter and a cooling agent for tree roots in the summer. It is an excellent option for effectively conserving soil moisture.
Weed Management – Mulch often suppresses the germination of weed seeds better than pine straw.
Erosion Control – Since mulch is a much heavier ground cover product than pine straw, its ability to control erosion is more effective since it will frequently stay in place well.
Appearance – If you like a contrast in your yard design, mulch tends to stand out in between plants and mulch very well. There is also many varieties in mulch to match your landscape, including dyed mulch.
Those that prefer pine straw over mulch do, however, still benefit from some distinguishable advantages.
Easy to Handle – Pine straw is extremely lightweight and easy to spread.
Natural – Using pine straw also means you are choosing a product that did not require the harvesting of trees to produce it. Its organic nature adds nutrients to your soil.
Breathable – Pine straw allows your soil to breathe better, without compacting or inhibiting proper water infiltration.
At the end of the day, it is still your personal preference on what you decide as your ground cover. Both pine straw and mulch offer their own set of advantages. Pannone's Lawn Pros & Landscaping is proud to offer exceptional lawn care maintenance using both pine straw and mulch as an adequate ground cover choice.