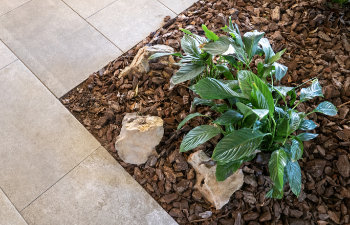 When it comes to achieving a stunning landscape that stands out from the crowd, Pannone's Lawn Pros and Landscaping in Cumming knows just what it takes. One of our biggest secret weapons for creating picturesque outdoor spaces is mulch. This unassuming material holds incredible potential to enhance the beauty, health, and functionality of your landscape. In this blog post, we'll delve into the benefits of mulch and how Pannone's can help you unleash its power on your property.
Enhances Soil Health
Mulch acts as a natural shield for your soil, protecting it from the elements and preserving moisture levels. By retaining water, mulch reduces evaporation rates and prevents soil erosion, promoting healthier plants and reducing the need for excessive watering. Furthermore, as the mulch breaks down over time, it enriches the soil by adding essential organic matter, enhancing nutrient content, and promoting beneficial microbial activity.
Weed Suppression
Weeds can be a nuisance, robbing your plants of essential nutrients and compromising the aesthetic appeal of your landscape. Mulch forms a protective barrier that impedes weed germination and growth, effectively reducing the need for hand-weeding and chemical herbicides. With our Cumming mulching services, you can bid farewell to tedious weeding tasks and enjoy a more manageable and visually pleasing landscape.
Temperature Regulation
Extreme temperatures can wreak havoc on your plants' well-being. Mulch acts as a natural insulator, shielding the soil and plant roots from temperature fluctuations. During scorching summers, it keeps the soil cool, reduces evaporation, and minimizes heat stress on plants. In colder months, it provides a layer of insulation, protecting plants from freezing temperatures. Our experts at Pannone's Lawn Pros and Landscaping can help you select the right mulch variety for your specific climate and planting needs.
Aesthetic Appeal
Mulch is a versatile tool for adding visual appeal to your landscape. With a wide array of colors, textures, and materials available, mulch allows you to create striking contrasts, define borders, and highlight specific areas of your property. Whether you prefer a classic look or a more contemporary vibe, we can guide you in choosing the perfect mulch that complements your overall landscape design, adding that finishing touch to make your property truly stand out.
Moisture Regulation
In addition to retaining moisture, mulch helps regulate soil moisture levels by allowing water to penetrate slowly and evenly into the ground. This prevents water runoff and reduces the risk of soil compaction, promoting optimal root growth. By maintaining consistent moisture levels, mulch assists in the establishment and growth of new plants while supporting the overall health and vitality of your landscape.
Schedule Your Mulch Installation in Cumming Today!
Mulch is undoubtedly a game-changer when it comes to landscape design and maintenance. With its ability to enhance soil health, suppress weeds, regulate temperature and moisture, and improve the overall aesthetic appeal of your property, it's an essential element to consider.
At Pannone's Lawn Pros and Landscaping, we are ready to help you unlock the full potential of mulch in transforming your Cumming landscape into a vibrant, healthy, and beautiful outdoor oasis. Contact Pannone's today to learn more about our mulch varieties or to schedule your free quote.